Coming to Groningen
There are direct flights from most big cities to Amsterdam Schiphol (AMS) airport. From there, direct trains to Groningen are available every hour, making the connection in about 2h. The train station in Schiphol is located in the airport itself. Tickets can be bought from machines or cashier in the airport (€26.20 one-way, 2nd class). Check the ns.nl for timetables.
Coming from London, it is also possible to fly directly to Groningen Aiport Eelde from London Southend airport. The company flybe is operating this connection. Eelde is located about 2 km South of Paterswolde.
Finally, it is also possible to fly to Bremen in Germany, and drive or take a coach from there. The ride takes under 2h.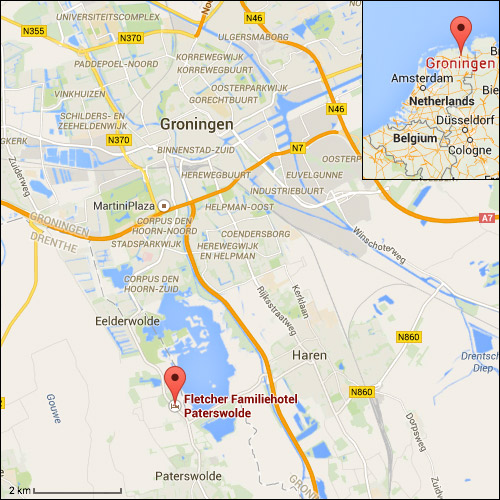 Hotel
The symposium will take place at the Fletcher Familiehotel in Paterswolde. All meals will be served at the Familiehotel except the Gala dinner that will take place at the Prinsenhof. Bikes will be available from the Familiehotel, and going to the city center is a scenic 20 min bike ride along the lake.
Hotel costs are included in the conference fee and rooms can only be booked through the registration process.
From Groningen Central station, the hotel can be reached by taxi or by bus:
Taxi: the ride costs about €25. Taxis are located in front of the station, to the left. In case you have special needs or want to book your taxi, here are contact numbers of a few companies:

Taxi Groningen: +31 50 541 8452
Taxi Noord: +31 50 549 4940
Taxi VTG: +31 50 301 5222

Bus: bus stops are located to the right when exiting the station. Line 2 takes you directly to the hotel, in about 30 min. Tickets cost €2.00 and can be bought in the bus, but you need to have the exact change. Timetables and travelling details can be obtained from Google Maps or from 9292.nl.
From Groningen Airport Eelde, the hotel can be reached either by taxi, or by bus (line 2).
Here are the addresses of the important locations:
Fletcher Familiehotel Paterswolde
Groningerweg 19
9765 TA Paterswolde
Station Groningen
Stationsplein 26
9726 AE Groningen
Groningen Airport Eelde
Machlaan 14a
9761 KT Eelde